With the help of my brother to help me what the santa was saying,I put subs on this video! It was so tricky listening to what the santa was saying because it's an very fast up tempo song so we had to keep repeating the santa over and over again til we got the words that he was saying right! I got some words correct like the Merry Christmas and other lyrics BUT even my brother had a hard time knowing what certain words were and he's hearing! But we got there in the end!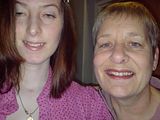 This is Mrs Porter, my old junior school helper at the school that i volunteer at (i stayed in touch with her)
This is Miiss Boocock, the teacher I help in class dressed up as an Elf for Santa's Grotto!

The xmas grotto at the school
To view more pictures of the christmas fayre click on one of the last 3 pictures!