These are articles that have been in my local paper about me. They are related to my cochlear implant and the condition I have. To look at the articles more closely click on the pictures.

This was a front page article with me when I was 8 pictured with my mum. We were enquiring for funding for my first cochlear implant.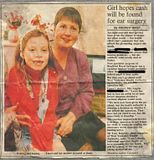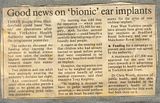 This was a page 5 article when I got a laptop for a Christmas wish as I was nomminated by my mum.